Video shows white teens driving over, killing black man, says DA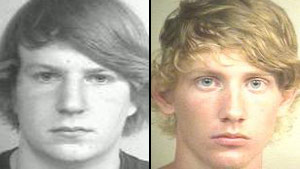 Deryl Dedmon, Jr., right, could face two life sentences in connection with the killing. John Aaron Rice, left, has been charged with simple assault.
Editor's note: The following story contains language some readers may consider offensive.
Jackson, Mississippi (CNN) -- On a recent Sunday morning just before dawn, two carloads of white teenagers drove to Jackson, Mississippi, on what the county district attorney says was a mission of hate: to find and hurt a black person.
In a parking lot on the western side of town they found their victim.
James Craig Anderson, a 49-year-old auto plant worker, was standing in a parking lot, near his car. The teens allegedly beat Anderson repeatedly, yelled racial epithets, including "White Power!" according to witnesses.
Hinds County District Attorney Robert Shuler Smith says a group of the teens then climbed into their large Ford F250 green pickup truck, floored the gas, and drove the truck right over Anderson, killing him instantly.
Mississippi officials say it was a racially motivated murder. What the gang of teens did not know was that a surveillance camera was focused on the parking lot that night, and many of the events, including the actual murder of Anderson, were captured live on videotape.
CNN has exclusively obtained that surveillance tape. The group of teens that night was led by 18-year-old Deryl Dedmon, Jr., of Brandon, Mississippi, according to police and officials.
Catch the entire article
here
Please leave feedback